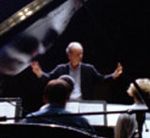 Steed Cowart
377 Lenox Avenue #42
Oakland, CA 94610
steed@mills.edu
http://www.steedcowart.com
http://www.facebook.com/steed.cowart
Education:
Ph.D. (1992), M.A. (1982) University of California, San Diego
Composition, conducting, Italian music since 1945 with Bernard Rands
Timbre studies, 20th-century analytic techniques with Robert Erickson
Composition, electronic music, music ritual and theater with Pauline Oliveros
History of orchestration, current notational trends with Roger Reynolds

B.Mus. (Music Composition) 1977 The College of Wooster, Ohio
Composition, advanced theory with Ruth Still
Conducting with Marshall Haddock
Piano with Daniel Winter

Florida State University, Tallahassee, FL 1971-74
Basic music and general studies
Composition with Roy Johnson, Harold Schiffman, John Boda
Music History with John Spratt

Specialized Training:
The Conductors Institute Workshop
The Camellia Symphony Orch. Sacramento, CA 1992
Harold Farberman, Conductors Institute Director/Instructor

Fromm New Music Weeks
Aspen Summer School of Music. Aspen, CO 1985
Luciano Berio, Earle Brown, Morton Subotnick, Bernard Rands, Alvin Lucier, Jacob Druckman, Composers in Residence

Summer Composers' Seminars California State University, Long Beach, CA 1985
Donald Erb and Bernard Rands, Composers in Residence

Centre Acanthes [Diploma] Aix-en-Provence, France 1983
Studied the music of Luciano Berio with Berio and David Osmond-Smith

Dartington Summer School of Music Dartington, England 1983
Richard Rodney Bennett

Teaching Experience:
Mills College, Oakland, CA Instructor/Lecturer 1986-present
Contemporary Performance Ensemble (Co-Director with William Winant 1986-1999, with Fred Frith 1999-2002)
Program and direct rehearsals and performances of recent works (mostly recent American music). Have led performances with the supervision of many composers including Christian Wolff, Eliane Radigue, Pauline Oliveros, David Behrman, Fred Frith, Luc Ferrari, James Tenney, John Bischoff, Alvin Curran, David Rosenboom, Malcolm Goldstein, Amy Denio, Wadada Leo Smith
Music theory
First-year harmony, Chromatic harmony
Supervised musicianship studies
Guided graduate student teaching assistants in preparation and presentation of musicianship studies materials complementing theory classes
Additional duties
Serve on Master's theses committees, conduct many student works on Senior and Master's theses concerts

Olivet University, San Francisco, CA Composition Instructor February 2013-present

Diablo Valley College, Pleasant Hill, CA Lecturer 2002-2011
Music Theory and Musicianship

University of California, Santa Cruz, CA Teaching Associate 1981-84
Musicianship
Taught small musicianship labs for theory classes. Sight-singing, intervals, scales and scale degrees, harmonic and melodic dictation, score/clef reading, keyboard harmony
Composition
Elementary theory
Fundamentals of music reading, elementary tonal theory (scales, tertian chordal structures, harmonic progressions, melodic and formal structures, thorough-bass), elementary musicianship
Ensemble Performance
Supervised students in rehearsal and performance of chamber works. Conducted Ensemble Nova (faculty new music ensemble), formed student chamber orchestra, conducted University Chorus, conducted many ad hoc ensembles

University of California, San Diego, CA Teaching Assistant 1977-78, 1980-81
The Nature of Music
A course dealing with composition, notation, electronics, and performance for first year music students and non-majors
(with professors Jean-Charles Francois and John Silber)
Latin-American music
Assisted professor (Bertram Turetzky) with research, class organization, exams, grading

Administration/Concert Production:
Mills College, Oakland, CA Concert Coordinator 1997-present
Produce all aspects of the annual Concert Series, including contracting, scheduling, publicity, programs, stage and front of house management, hiring and supervising student assistants, member of programming committee. Manage the Music Department budget. Help manage facilities.

April In Santa Cruz New Music Festival Director 1982-84
Programming, grant writing/fund raising, budgeting, scheduling, supervising publicity, personnel

Amer. Soc. of Univ. Composers National Conf. Admin. Assistant. San Diego, CA- 1978
Score selection, programs, rehearsals/performances, correspondence, publicity, personnel

Sonor UC, San Diego Manager 1978-80
Preparation of rehearsal/concert space, librarian, assisted with publicity, scheduling, personnel

Mandeville Center for the Perf. Arts UC, San Diego Scene technician. 1979-81, 1985
Preparation of stage for rehearsals and performances, lights, sound reinforcement/playback, sets/props

Carmel Bach Festival. Carmel, CA Recital Stage Manager 1984-86
Set-ups for rehearsals, managed performances, worked on stage crew for opera performances

[THE] Harkins and Larson San Diego, CA Technical assistant 1978-85
Lights, sound reinforcement/playback, sets/props, assisted with running complex music-theater performances

Music Department Public Relations Office UC, San Diego Assistant 1977
Assisted with press releases, assisted with various aspects of publicity office operations

Recordings:
Richard Marriott, The Cabinet of Doctor Caligari
The Club Foot Orchestra Steed Cowart, conductor
Ralph Records 1988

Richard Marriott and Gino Robair, Nosferatu
The Club Foot Orchestra Steed Cowart, conductor
Ralph Records 1989

References:
Please contact Steed Cowart for a list of references or other information.
Home | Biography | Works | Conducting | Sounds | Gallery | Resume | Contact | Links